COMMUNITY
Ohr Somayach Monsey enjoys a vibrant relationship with the broader Monsey community and surrounding neighborhoods, providing quality shiurim on a daily and weekly basis that are open to the public. Among its most popular, well-attended daily classes are two Amud Yomi shiurim given respectively by Rabbi Yochanan Wosner and Rabbi Mordechai Leiser; a Daf Yomi shiur by Rabbi Yisroel Rokowsky; and a weekly Sfas Emes shiur on the parsha by Rabbi Yisroel Simcha Schorr. A series of shiurim for women, presented by Mrs. Chani Juravel, draws over 70 participants each week.
Before the chagim and throughout the year, Ohr Somayach coordinates a series of lectures for the community at large, presented by world class educators and
speakers. The yeshiva hosts an inspirational Yom Iyun before Rosh Hashana
and Yom Kippur, and Rabbi Ephraim Wachsman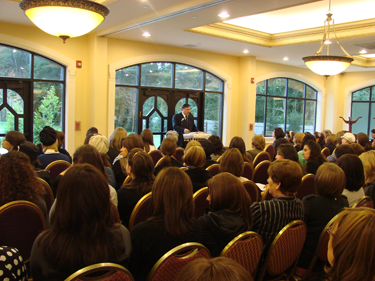 delivers a standing-room only pre-Yom Kippur address.
Rabbi Zelig Pliskin, Rebetzin Tehila Jaeger, Rebetzin Feige Twersky and Rebetzin Tziporah Heller are among the distinguished speakers that have impacted audiences via  Ohr Somayach Monsey's network of shiurim offered to the public.
Ohr Somayach's family division, Ora V'Simcha, directed by Rabbi Naftali Reich and hosted in the beautiful Beit Shvidler Conference Center, conducts monthly weekend retreats and a number of family events for Jewish families seeking spiritual growth and rejuvenation.